2020 Annual Report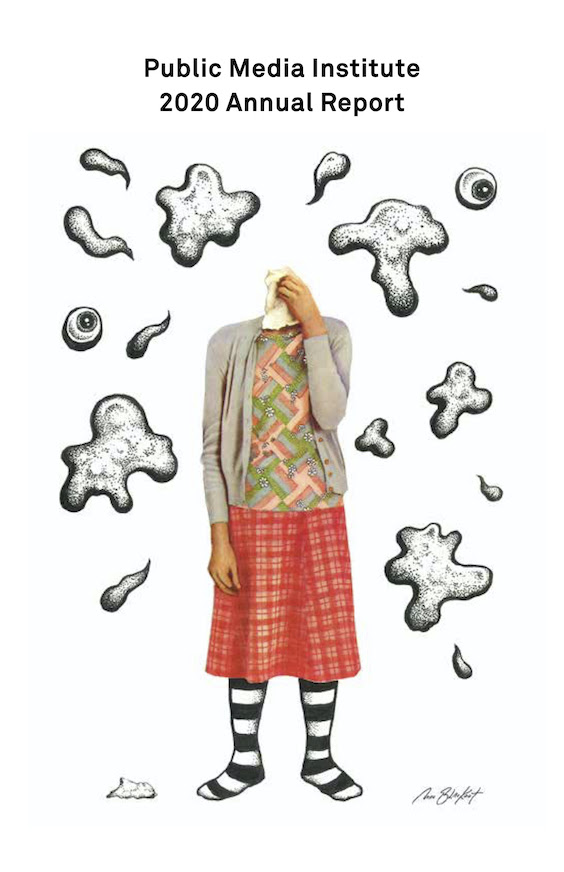 Check out PMI's 2020 Annual Report to see what PMI was up to in the year of the pandemic.

Community of the Future Market
The Community of the Future Market is a City of Chicago Licensed Farmers Market and the food distribution program is hosted in the parking lot behind Marz Community Brewing every Sunday from 10 am to 2 pm. We strive to provide a space for our community to purchase directly from farmers and vendors in a safe and comfortable manner. Buddy maintains a booth at the market, and Community Kitchen works with the farmers to buy up unpurchased produce for the free meals that will be produced in the following week.
Lumpen Radio
105.5fm
WLPN-LP
WLPN-LP is operated by a community of curators, producers and DJs working to connect you with the music and ideas we think you will love. Our aim is to spotlight the hidden parts of the city, amplifying its voices and sounds. We're here to promote an open media, unite communities, and magnify the hard work of artists, musicians, activists and cultural workers like you.
//////
Lumpen Magazine, Mash Tun Journal and Pizza Fried Chicken and Ice Cream are current publishing projects that we produce regularly.
The following projects show the diversity of our work and mission:
On January 20th 2017 we released the "Our First 100 Days" issue of Lumpen Magazine.
We did a call for work after the election and asked our community to respond to the Billionaire Gang's plans for the Trumpocalypse.
Consider this issue our first salvo for an updated and lean introduction to the struggles, tactics and strategies that will forge a more positive way ahead. We hope these slivers of hope, these prescriptions for defensive measures and inspired kernels of wisdom will activate you and your friends and family to join the Front Against Trump.
Issue 129 of Lumpen Magazine was designed by Studio Chew. It was copy edited by Mairead Case.
It features contributions by:
Alan Moore, Aya Lafillette, Carol Morency, Catherine Uehara, Dimitre Samarov, Eva Pilch, Industry of the Ordinary, Jason Geistweidt, Jerry Boyle, Jesse Navarrete, Jimmy Pivo, John Wilson, Justin Cholewa, Lauren Gallagher, Matt Muchowski, Michael DiGioia, Michael Hernandez de Luna, Mother Goose Luz, Rebecca Ridge, Scott Bufis, Sebastian Villarreal, Seth Kim-Cohen, Tom Torluemke, Victor Grigas, & Virginia Montgomery
With comics by:
Ben Marcus, Bobby Sims, Chema Skandal, Eddy Rivera, Grant Reynolds, Johnny Sampson, Kriss Stress, Krystal Difronzo, Lyra Hill, Mary Beth Brennan, Nate Beaty, Rylan Thompson, Sarah Leitten, & Two Tone Comics.
Download the issue: Lumpen 129 Our First 100 Days
RECENT PROJECTS FROM A FEW YEARS AGO

Version Festival 15: 100 Watts
April 23 to May 3, 2015
Information from versionfest.org website
For the past 14 years Version Festival has introduced innovative projects that tackle local social and urban issues. The festival highlights projects and people that engage public interest and promote the cultural use of public space.
In December, 2014 the FCC granted the Public Media Institute, our nonprofit arts organization, a license to build a low-power FM station to serve our community and up to 1.7 million Chicago listeners. We are calling it WLPN or Lumpen Radio. It is broadcasting live on the internet and will be on the airwaves at 105.5 FM once we finish building our studio, buy equipment and lease our tower. It's our most ambitious project to date and we need you to join us and help us build it.
This year VERSION FESTIVAL'S theme is 100 WATTS, the strength of our new Low Power FM Radio Station that we are building right now. VERSION FESTIVAL 15 : 100 WATTS will be an on-air laboratory and campaign to create the kind of radio station we believe our city needs. Lumpen Radio will be a conduit for musicians, artists, thinkers, critics, activists, and instigators from Chicago and around the world, and our festival will serve as a beta test for producing and experiencing these essential sounds, ideas, and programs.
In addition we will transform our gallery, the Co-Prosperity Sphere, into a studio for recording and broadcasting live events and programming. We will also record and broadcast live music, performance, and spaces throughout the city.
We have joined forces with local radio producers, audio alchemists, activists, DJs, podcasters, record labels, bands, storytellers, spoken word artists, time travelers, poets, librarians, art critics, educators, performance artists, and sound editors to present our Version of what a radio station should look and sound like.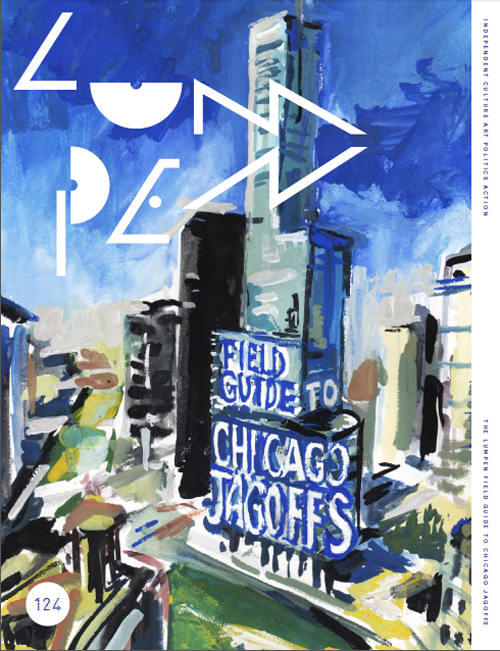 The Lumpen Field Guide to Chicago Jagoffs
Issue #124
Lumpen Field Guide to Chicago Jagoffs. Contributors from across Chicago craeated entries about the people, places, and practices (past and present) that constitute representative jagoffery.
The Guide was edited by Bill Savage and Paul Durica who crowd sourced contributions from across the city.
Contributors include: Randy Bushwa, Chris Brotherton, Jerry Boyle, Joe Bryl, Andrés Carrasquillo, Paul Dailing, Amy Beth Danzer, Charlie Davis, John Dudas, Paul Durica, Marc Fischer, V. Francone, Amy Friedman, Pawel Grajnert, Honna Eichler George, Peter Hand, Ed Herrmann, Hugh Iglarsh, Nick Jaeger, Yana Kunichoff, Matt Lauritzen, Carol LaChapelle, Ian Morris, Jarrett Neal, Max Norton, Robert O'Connor, LuAnn Paladino, Joseph S. Pete, Christopher Peterson, Rachel, Greg Salustro, Dmitry Samarov, Bill Savage, Tom Schneider, Christopher Sholes, John Shuster, August Spies, W.R. Logan Sq. , Jamie Trecker, Vincent Truman, Katharine Uhrich, Shanna van Volt, Sam Weiner, Julie Welsh, Mary Zerkel and others.
Comics by: Andy Burkholder, Ben Marcus, Danielle Chenette, Eddy Rivera, George Porteus, Nate Beaty, Sarah Leitten, Grant Reynolds, Kevein Budnik, Krystal Difronzio, Mike Carretta and Nate McDonough.
This is our "Makers" edition of the magazine and focuses on the work of some rad local small manufacturers, artists and artisans.
The issue features interviews with: Angela Venarchik, Johnny Wator (Daredevil Pedals), Julie Ghatan, Doug Kaplan & Max Allison of Hausu Mountain, Kelsey Dalton & Andrew McClellan of Heart & Bone Signs, Dusan Katić of Katić Breads, Coyote DeGroot of Labrabbit Optics, Dave Rand of Local Foods, John Taylor Wallace & Emily Moorhead of Metal Magic Interiors, Nancy Klehm of The Ground Rules, Pablo Ramirez of Pilsen Outpost, Jes Skolnik of Pure Joy, Dan Salls of The Salsa Truck, Shirley Kienitz & Jenny Stadler Wolfbait & B-Girls, Marie Akerman of Working Bikes and Blake Sloane formerly of Rebuilding Exchange.
Lumpen #123 also features the usual world class comic art you expect from us including work by: Andy Burkholder, Ben Bertin, Ben Marcus, Danielle Chenette, David Alvarado, Eric Rivera, Grant Reynolds, Jason T Miles, Joe Tallarico, Krystal DiFornzo Leslie Wiebeler, Nate Beaty and Sarah Leitten.
Lumpen Issue 122
This is the second All Comics Issue of Lumpen magazine. Edited by Joe Tallerico, this edition features an international sampling of some of the best comic artists on the planet.
Contributors to Lumpen Magazine issue 122 include: David Alvarado, Max Bare, Nate Beaty, Ben Bertin, Michiel Budel, Kevin Budnik, Andy Burkholder, Jessica Campbell, Danielle Chenette, Ryan Travis Christian, Jo Dery, Krystal Difronzo, Nick Drnaso, Edie Fake, Leif Goldberg, Anna Haifisch, Sean Hernandez, Keith Herzik, Juliacks, Bret Koontz, Blaise Larmee, Sara Lietten, Ben Marcus & Nicole Ginelli, Marieke McClendon, Ian Mcduffie, Bernie McGovern, Lane Milburn, Jason T Miles, Max Morris, Onsmith, Paul Nudd, George Porteus, Eric Rivera, Otto Splotch, Joe Tallarico, Mike Taylor, Jeremy Tinder, Carrie Vinarsky, Leslie Weibeler, Lale Westvind
Version Festival 14: The Placemakers ( June 2014)
The 13th annual edition of Version festival investigated the intersections of creative placemaking, tactical urbanism and social practice. Visit Version Festival's website.
Typeforce 5
PMI along with Firebelly Design is produced the fifth annual exhibition of Typographic All Stars. The juried show opened Februray 28, 2014. Highlights of past shows can be seen here: typeforcechicago.com
Chicago Street Art: Paint, Paste, Sticker
(Winter 2014)
Public Media Institute published the catalog for the Chicago Cultural Center's recent survey of Chicago Street Art.
www.cityofchicago.org/city/en/depts/dca/supp_info/street_artists.html
Proximity 011: The Art and Food Issue (Fall 2013)
We published the potluck edition of Proximity Magazine Number 11, wherein we investigate the intersections of art, food, politics and social practice. We are following our noses and inhaling the increasing preoccupation of food being used in contemporary art. Our engagement with projects that have inspired us in recent editions of Proximity, Version Festivals and MDW fairs, and romps throughout our city's art ecology has lead us to this inevitable feast. And of course the increasing collaboration between chefs and brewers with community groups and social causes has given us a pause to further consider this blossoming movement of culinary social art practice.
Spontaneous Interventions
(Summer/Fall 2013)
Public Media Institute had two projects included in the Spontaneous Interventions exhibition, organized by Cathy Lang Ho on behalf of the Institute for Urban Design.
Spontaneous Interventions: Design Actions for the Common Good features 84 urban interventions initiated by architects, designers, planners, artists and everyday citizens that bring positive change to neighborhoods and cities.
Spontaneous Interventions is devoted to the growing movement of architects, designers, artists, and everyday citizens acting on their own initiative to bring improvements to the urban realm, creating new opportunities and amenities for the public. The exhibition received over 178,000 visitors in Venice, and earned a Special Mention from the Golden Lion jury, the first time the United States has been honored in the history of the Venice Architecture Biennale.​
www.spontaneousinterventions.com
Version ⑬ An Urban Operating System
(June 14- 22, 2013)
Since 2001 Public Media Institute's Version Festival has introduced innovative projects that tackle local social and urban issues. The festival highlights projects and people that engage public interest and promote the cultural use of public space.
For Version Festival 13 we launched An Urban Operating System. The Urban OS celebrates the energy and imagination of people who make the city a better place to live, work and play in. During the festival we examined projects that serve the common good, and connect us to services that everyone can use in our neighborhoods. These socially engaged projects promote the cultural use of public space and demonstrate innovative forms for funding ideas and actions.
An Urban Operating System is an ongoing campaign by the Public Media Institute to examine applications and ideas promoting opportunities for renewing our public space. Visit Versionfest.org and Public Media Institute for more information.​
Typeforce 4: Showcase of Typographic All-stars

(March 2 through March 15, 2013)
In conjunction with Firebelly, PMI hosted our 4th annual showcase of art and design at our gallery, The Co-Prosperity Sphere. Over 4o artists from around the world took part in the exhibition. Over 1,000 members of the art and design community attended the event.
SMALL is Ordinary Shop

From October 15, 2012 through January 1, 2013 The Small Manufacturing Alliance (SMALL), a project of the Public Media Institute, created the SMALL is Ordinary Shop. The Shop was part of the Sic Transit Gloria Mundi: Industry of the Ordinary exhibition which took place in the Chicago Cultural Center. The Shop was be located on the first floor, re-imagining the former Cultural Center gift shop. Over 150 local boutique manufacturers had their products represented and sold at the Shop.
The SMALL Showroom

The SMALL Showroom was launched May 2012 during Version Festival 12 at the Co-Prosperity Sphere (3219 S Morgan Street) in Chicago. SMALL Showroom is a nomadic shop created to launch awareness of SMALL members' products and services. Think of it as the People's Macy's. Public Media Institute helped launch SMALL with financial and operational support.
Version Festival 12: Bridgeport The Community of the Future

Each year we produce Version Festival. It is an annual arts festival that intersects, art, activism, social practice, urban development and design. In May 2012, Version festival created twelve pop-up store front projects and businesses which formed the basis of a neighborhood-wide social intervention. The spaces were open from a month, projects ranged included an artisanal donut shop, a record store, a bookstore, a new art gallery to the SMALL shop. This year's festival features over 500 participants and reached over 8,000 attendees.
Public Media Institute Research Library

The PMI Research Library is a collection of art, architecture and design periodicals . The library is a site of interaction and research for individuals interested in hard to find and unique publications. PMIRL was created to establish a dialogue about new urbanism, contemporary art, and graphic design in Chicago.
Printervention

Printervention debuted in Chicago in the Spring of 2010 as part of the annual arts festival Version Festival.
Printervention underscores the necessity for the support of artists and the idea of civic responsibility to the greater society. Inspired by the Depression era's Works Progress Administration (WPA) that hired artists to make murals, posters and other art for the everyday, Printerventionists are asked to recreate that era's style of communication.
The inaugural exhibition featured over 70 posters and prints by artists from around the US who created work inspired by the WPA of the 30s. The exhibition included a mobile silkscreen cart, public art installations, as well as workshops, demonstrations and collaborations at the Chicago Tourism Center Gallery.
Typeforce

Typeforce is the annual showcase of emerging typographic artists that takes place at the Co-Prosperity Sphere. It is the only typographical art and design showcase in the midwest.
Festivals
Due to the overwhelming effort of creating radio twenty four hours a day, we have suspended programming our annual festivals.
Past festivals included:
May cite: Version Fest, Select Media Festival, MDW Fair. — But also 68+50 (2018) and Togetherism (2019) which are more "programming series" than festivals.
Now in its 13th year, Version (2001-2016) wasis an annual arts festival that broughtbrings together hundreds of artists, musicians, and educators from around the world to present a wide range of t some of the most challenging ideas and progressive art initiatives of our day. The festival showcaseds emerging trends in art, activism and public art.
Version festival presented a diverse program of activities featuring an independent art fair called the MDW Fair, traveling exhibitions, public interventions, video screenings, interactive technologies, performances, presentations, talks, workshops, art rendezvous and action.
Mash Tun was ais a new craft beer festival featuring some of the world's best breweries. The event celebrated the release of Mash Tun Journal and artisanal and handcrafted culinary culture. Mash Tun Journal was paean to craft beer. It follows the pleasures and aesthetics of craft beer and how it intersects with food, culture, and society. PMI's sister company Marz Community Brewing (name? link? ) was born out of this publication and festival.
MDW Fair Formed in spring 2011 as a collaborative project between the Public Media Institute, Document, Roots & Culture and threewalls, the MDW Fair is a showcase for independent art initiatives, spaces, galleries and artist groups, highlighting artist-run activities and experimental culture locally, nationally and internationally. Featuring more than 75 exhibitors, publishers, and performers, the MDW Fair is the world's premier event for grassroots and independent art culture. Utilizing Mana Contemporary Art Center's newly opened branch in Chicago, MDW has a packed schedule of performances, artist projects, and events over the course of the weekend.